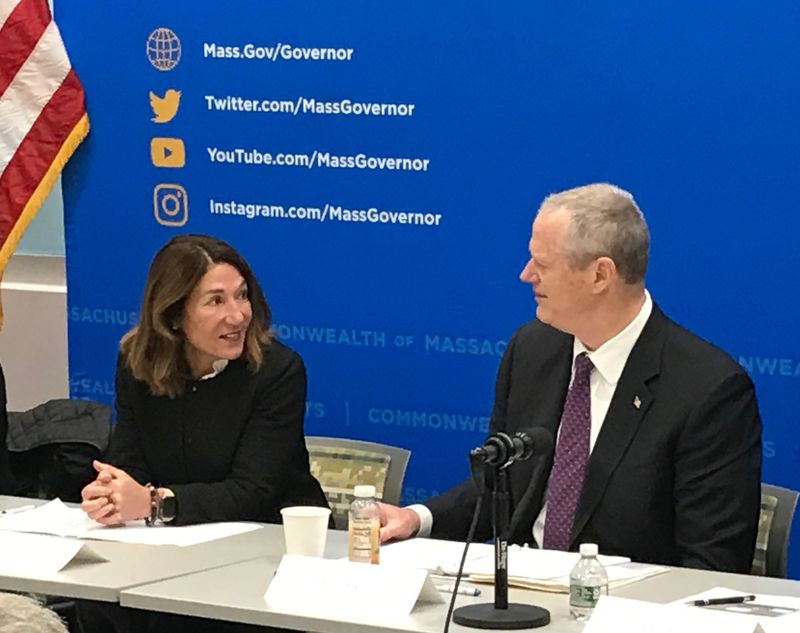 21 Sep

'Like running water': Gov. Charlie Baker, Lt. Gov. Karyn Polito celebrate state's success bringing broadband internet to rural towns

Posted at 20:26h

in

Media

And much of that high-tech work involved the old-fashioned labor of tunneling through swamps, stringing cables across the Deerfield River with a kayak and slowly boring utility-pole holes into Western Massachusetts rock ledge.

Gov. Charlie Baker and Lt. Gov. Karyn Polito, who led the efforts of the Make Ready program, heard all those stories Thursday as they gathered with industry professionals from Comcast, National Grid, Verizon, Westfield Gas & Electric and others at the Massachusetts Green High-Performance Computing Center, 100 Bigelow St., Holyoke, to celebrate the four-year process.

As of Thursday , 40 Last Mile towns have fully operational broadband networks, 10 previously unserved towns have networks that are partially operational, with the three remaining unserved communities in various stages of design or construction.

The last of the program's weekly check-in meetings is this month. Baker and Polito have announced they will not run for another term. They leave office at the end of December.

Make Ready, Baker said, brought fast, reliable internet communications into rural towns where one man told him he had to spend workdays at a pizzeria in order to keep up with his remote sales job.

"If you can't play in this space in the 21st century, you discover that your opportunities are limited," Baker said. "It's like running water at this point."

The state had a $40 million bond authorization for expanded broadband, said Peter J. Larkin, chair of the Massachusetts Broadband Institute. But Larkin estimated all the spending, from not only the state but also utilities and towns, at nearly $100 million.

As Polito explained, a lack of coordination had the project stalled until everyone started working together as Make Ready.

Now, the federal Bipartisan Infrastructure Law provides Massachusetts with$100 million for broadband coverage enhancements.

Larkin said even though much of the state is covered, there are still gaps.

"We are engaged in mapping right now," he said.

The other priorities are working on education so that more potential customers understand the need for and can make use of broadband.

"It's the digital literacy piece," he said. "That and affordability are the two goals."

Thursday's event was the first large-scale in-person event since the pandemic at computing center, said John Goodhue, executive director. The center provides high-speed computing to researchers and is a joint venture of Boston University, Harvard, MIT, Northeastern and the University of Massachusetts.

From Holyoke, Polito traveled to Shelburne Falls to announce regionalization and efficiency grants, including $200,000 for regional policing in Buckland and Shelburne; $187,000 for regional policing in Leyden and Bernardston; and $40,000 for reginal emergency medical services in Northfield.

The Pioneer Valley Planning Council received $95,000 for reginal economic development planning in: Blandford, Brimfield, Chester, Chesterfield, Cummington, Goshen, Granby, Granville, Hadley, Hampden, Hatfield, Holland, Huntington, Middlefield, Montgomery, Pelham, Plainfield, Russell, Southampton, Tolland, Wales, Westhampton, Williamsburg, Worthington.